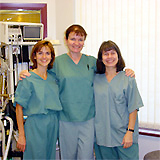 Our staff are carefully selected and experienced Registered Nurses and Royal College certified anaesthesiologists. As Metrotown Surgical Centre is a small office, all of our staff have become like family and together we are committed to the provision of excellent care to you, our patient.
At MSC we are dedicated to providing the highest standards of care. You will find a cozy and comforting setting with our friendly, courteous, and helpful staff. Unlike the large impersonal hospitals, we treat all of our patients with the individual care you deserve. We will make every effort to accommodate you and your needs.
Meet the Staff
Janet - Nurse Clinician
Janet has been with Metrotown Surgical Centre since 2001. She primarily works with Dr. Horton assisting with patient care and specializes in preoperative preparation of patients for surgery and postoperative care. You will feel at ease with her during this process because she is attentive, compassionate and thorough. Janet will ensure that all of your questions are answered, and all of your expectations are addressed.
Anna - Patient Coordinator
Anna brings to our reception area an enthusiasm that our patients appreciate and enjoy. She has been in the Cosmetic industry for 16yrs and is a graduate from BCIT. She is a patient advocate helping clients with coordinating appointments and surgeries. She will be there to answer any questions you may have before or after your procedure, ensuring that your experience is positive and enjoyable.
Joanne - Medical Aesthetician
Joanne has been in the Medical Cosmetic industry since 2002. Joanne brings with her an extensive background knowledge in medical skincare products and Laser Skincare procedures.